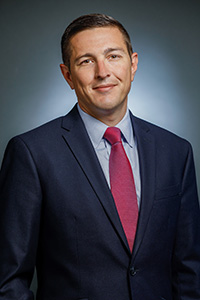 Associate
email:  

jdecoteau@hn-colaw.com
office:  303 860 7140
Jared Decoteau has a passion for helping families navigate through crisis. His law practice focuses primarily on high asset divorces, including complex business valuations and trust planning. Mr. Decoteau also helps his clients resolve contentious child support, child custody, and spousal maintenance issues.
Mr. Decoteau recognizes that divorce and other familial disputes are often one of the most stressful experiences of a client's life. He leverages his extensive experience working in high pressure environments to provide clients with advice, guidance, and support during difficult times.
Before joining HND&M LLP, Mr. Decoteau served as a legal advisor with the Syrian Support Group. In that capacity, he advised Syrian militants on the relevant provisions of international humanitarian law and investigated claims of war crimes and crimes against humanity committed in northern Syria. Previous to that, Mr. Decoteau lived in Aleppo, Syria, where he worked with the United Nations to provide for the needs of Iraqi refugees. His work in conflict zones taught him how to find creative solutions to challenging problems, and he uses this experience to bring resolution to his clients' disputes.
Mr. Decoteau believes in the importance of community service. Since arriving in Colorado, he has volunteered with the Rocky Mountain Children's Law Center, Metro Volunteer Lawyers, and the Colorado Lawyers Committee, among other volunteer organizations. He is also a member of the Family Law Section of the Colorado Bar Association.
Mr. Decoteau received his B.S. in 2008 from Florida State University. He received his J.D. from American University, Washington College of Law in 2013.
PROFESSIONAL EXPERIENCE
Hoffman Nies Dave & Meyer LLP, 2016- Present

Syrian Support Group, 2013-2015

National Center for State Courts International, 2012

United States Senate Committee on the Judiciary, 2011
COMMUNITY LEADERSHIP
Legal Aid Foundation of Colorado, Associates Advisory Board

Rocky Mountain Children's Law Center, Guardian ad Litem Program

Metro Volunteer Lawyers, Family Law Court Program

Colorado Lawyers Committee, Denver Legal Night

Metro Denver Interdisciplinary Committee on Child Custody (MDIC)

Avocats Sans Frontières (ASF)
EDUCATION
Juris Doctor, American University, Washington College of Law, 2013

 Bachelor of Science, Florida State University, 2008
PUBLIC COURT ADMISSION